" Yoobao as the 3C consumer electronics leading brand in market "
In 2015 Global Sources Hong Kong Electronics Fair. Shenzhen Yoobao Technology Co. Ltd. is the sole manufacturer that announce the well equipped USB Type-C interface with a full range of new six series, including Cable, Dock, Adapter, Power Bank, Car Charger, USB Hub.
" The USB Type-C is new and tiny interface that with the maximum transmission rate of 10Gbps and power of 100W supporting. "
After nearly two decades of development, USB transfer speed from 1.0 (1.5Mbps), 2.0 (480Mbps), 3.0 (5Gbps), developed to the maximum transmission speed of 10Gbps, can support a maximum power of 100W USB Power Delivery 2.0 (PD2.0 ) power transmission technology, can be said to be a revolutionary leap, which means a high degree of pressure and high-speed transmission performance USB3.1, not only for the direct charging laptop, but also replace HDMI, Display Port, VGA display interface and other professional direct support for 4K video transmission.
Not only Nokia N1, Apple New MacBook application but also many new coming mobile, tablet, computer,TV screensuch devices will shortly be appearing as usage. The USB Type-C must making waves on the electronic industry in coming years.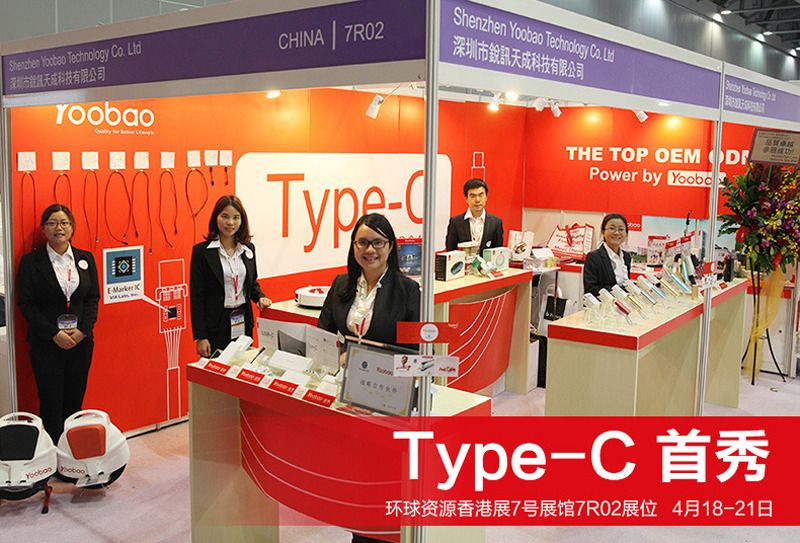 Type-C is a new form interface under USB3.1, backward compatible with USB 2.0 / 3.0. The size of Type - C is too small (one-third equivalent to Micro-A / B type connector ) so means future device should be smaller size. Apart from the powerful transmission performance, Type -C need not worry about plug the jack in wrong direction. Just insert directly.
In the Fair, Yoobao is the only way to come up with Type-C cable, adapter, mobile power, car charger exhibitors. Visitors surprised to see VLI Type-C Solutions E-Marker chip mark. This chip is the main key. Only equipped with E-Marker chip, digital equipment can perform USB3.0, USB3.1 standard high-speed communications, and to achieve the fast charge function USB PD2.0. The solution of USB3.1 protocol scheme USB3.1just developed by several firm, TI, ST, Cypress , VLI currently.